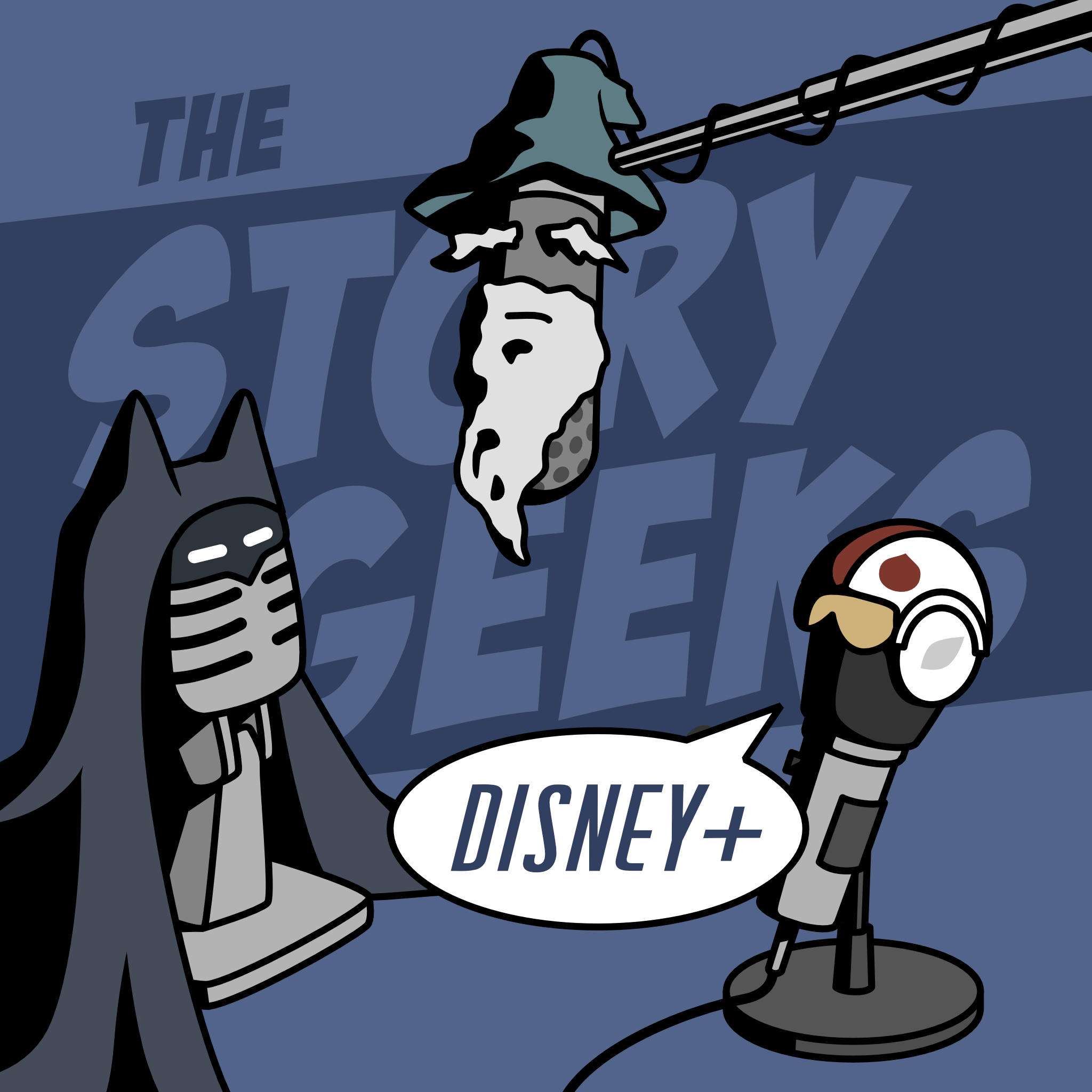 Subscribe to The Story Geeks NEW podcast channel: The Story Geeks Talk Disney+ (available soon on your preferred podcast provider)!
An entire podcast dedicated to the geek content on Disney+? A Disney+ podcast channel from The Story Geeks? Yep. Welcome to The Story Geeks Talk Disney+!
The Story Geeks love podcasting about Disney+! We're not affiliated with Disney or Disney+ in any way, we just dig Star Wars, Marvel, Disney, and Pixar and want to talk about all the Disney+ geek content!
What is a "Geek"?
The Story Geeks classify "geek" as anything that falls into the science fiction, fantasy, or comic book genres. If you like one or more of those genres, then you're a geek! Here are some great examples of geek stories on Disney+:
Star Wars (e.g., The Mandalorian, The Clone Wars, all the films, etc.)
Marvel (e.g., Wandavision, Loki, and the rest of the Marvel Cinematic Universe)
Disney (e.g., most of Disney's animated movies)
Pixar (e.g., most of Pixar's movies)
The Story Geeks Talk Disney+ is a sister podcast to The Story Geeks podcast and part of The Story Geeks network. Here are some of the shows we intend to release, just for you:
After Shows: Want to break down the latest episode of The Mandalorian or Wandavision? You've come to the right place!
Dig Deeper: Just like on our The Story Geeks channel, we'll be digging deeper into the geek movies available on Disney+!
What to Watch: This is a brand new type of show for us! A weekly dose of what we're watching on Disney+ and what we would recommend to you!
Show/Movie Reviews: We also have a ton of folks onboard looking to do reviews of Disney+ entertainment!
And stay tuned, because we're always coming up with more content ideas!
Should I subscribe?
Absolutely! Subscribe here:https://thestorygeekstalkdisneyplus.podbean.com/! And, within a few days (or less), you should be able to subscribe on your preferred podcast provider! And if you want more information on what we're up to, check out www.thestorygeeks.org for more info!
Is your podcast associated with Disney or Disney+?
Nope. We're just fans who love what Disney and Disney+ are up to, and we love to talk about it!