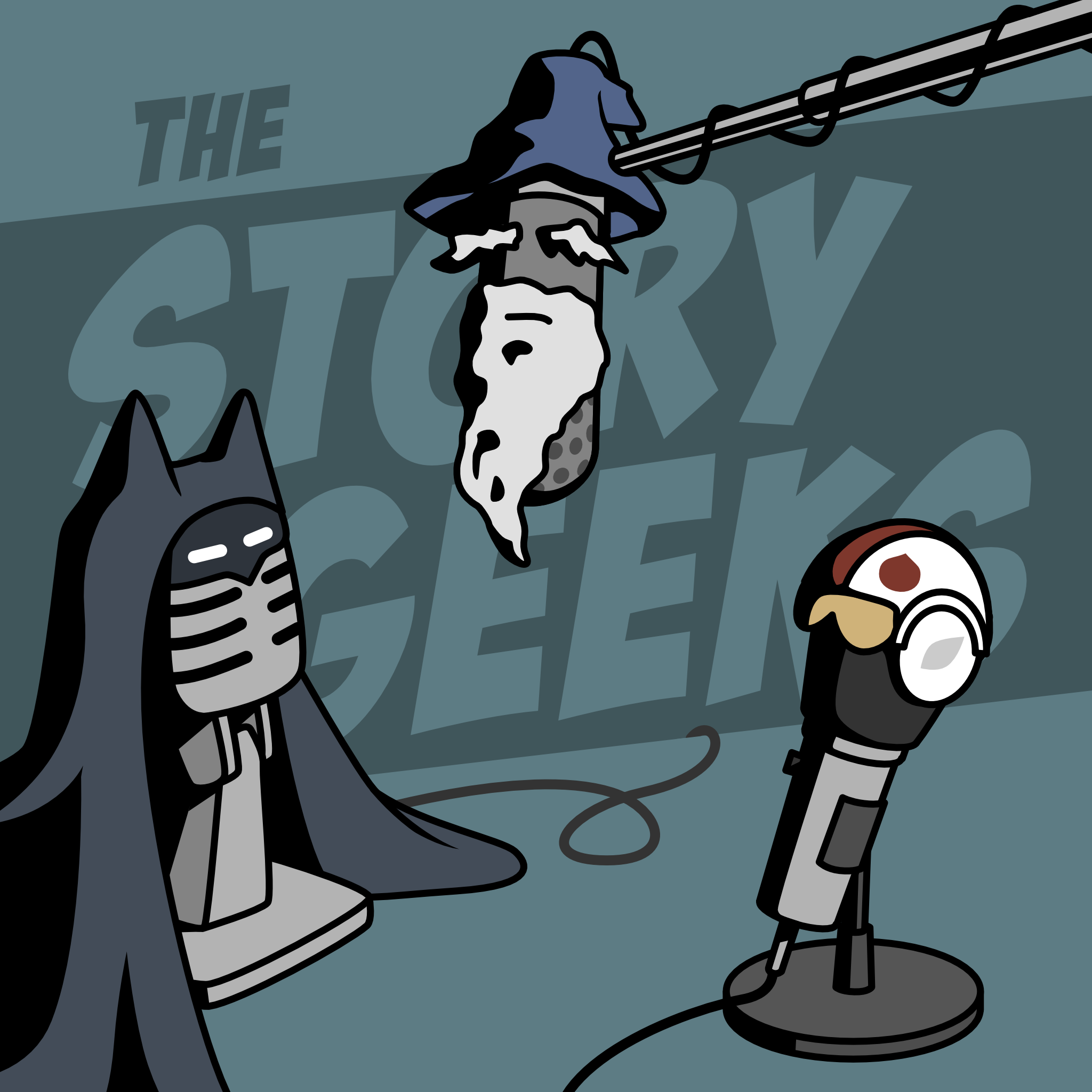 He's #3 on AFI's list of 100 best villains of all time... but does he deserve to be?
Daryl Smith and Jay Sherer are joined by Helen O'Hara from the Empire Podcast to dig deeper into the Dark Lord of the Sith, DARTH VADER.
Where does Darth Vader rank in our list of Star Wars characters?
Does the Prequel Trilogy hurt Darth Vader's journey through the Skywalker Saga?
Remembering the biggest twists in the Original Trilogy that involved Darth Vader...
Did Darth Vader deserve redemption?
And much, much more... including Helen O'Hara singing! You should listen just for THAT!
Want to join us LIVE on an Aftercast and vote on upcoming show topics? Become a member of The Story Geeks Club! Join the club and learn about our tiers and benefits here: https://www.patreon.com/thestorygeeks
--------------------------------------------------------------------------------------
PURCHASE TIMESLINGERS! Jay and Nathan's time travel novel is available now! TIMESLINGERS currently has 4.5/5 stars on Amazon.com!
--------------------------------------------------------------------------------------
SUBSCRIBE FOR MORE STAR WARS PODCASTS IN THIS SERIES:
(Note: Specific release dates subject to change...)
Week 1: The Last Jedi - Dig Deeper
Week 1: Aftercast: 

Make It Better - The Sequel Trilogy

Week 2: The Mandalorian - Episodes 1 & 2 (to listen to ALL our The Mandalorian episodes, subscribe to The Story Geeks Talk Disney Plus)
Week 3: 

The Jedi Religion 

- Dig Deeper

Week 3: Aftercast: The Jedi & The Sith - Dig Deeper
Week 4: Nerdfight: 

Pitch a New Star Wars Trilogy

Week 4: Aftercast: Stories we want to see after The Rise of Skywalker
Week 5: Character Focus: Anakin Skywalker
Week 5: Aftercast: 

Top 10 Star Wars Characters

Week 6: 

The Women of Star Wars

Week 6: Nerdfight Aftercast: 

Most Powerful Star Wars Character

Week 7: 

Star Wars: Episode IX Reaction

Week 7: Aftercast: Character Focus: Emperor Palpatine
Week 8: 

Redemption in Star Wars

Week 8: Aftercast: 

Legends/Extended Universe

 - Dig Deeper
LINKS:
SUBSCRIBE
iTunes | Podbean | Stitcher | Spotify
SOCIAL
Facebook Group | The Story Geeks YouTube Channel | Reclamation Society YouTube Channel
Twitter | Instagram | Email: thestorygeeks@gmail.com | Jay: @JaySherer | Daryl: @darylhsmith | Sandra: @sand_rad | Justin: @justintheweaver | Nick: @ndukie